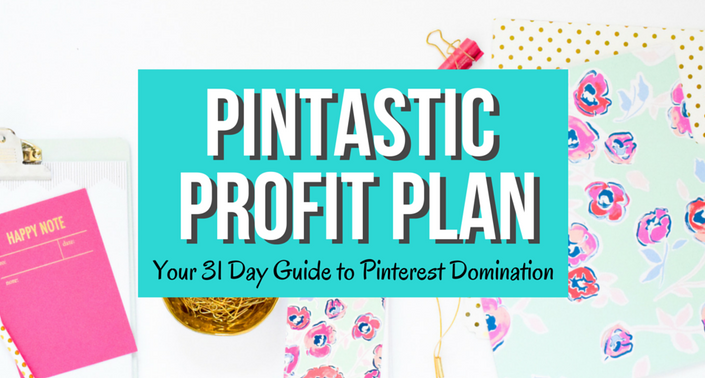 Pintastic Profit Plan
Your 31 day plan to build a list, gain traffic, and secure paying clients through Pinterest!
HUSTLING FOR LEADS.

WAITING ON NEW CLIENTS.
IT'S A HARD WAY TO RUN A BUSINESS.
Imagine having a powerful marketing machine that drives list building, traffic, sales and paying clients while you sleep....

--> your EMAIL LIST is constantly growing with potential clients
--> you have WARM LEADS, SALES, and "work with me" forms coming in daily
--> your marketing is set on AUTO-PILOT (even if "life" happens)
--> content that you created months ago continues to secure NEW CLIENTS
--> your income and client/customer acquisition method is fully AUTOMATED
--> You can get focus on DOING WHAT YOU LOVE + making an impact!
If marketing and sales make you shaky in the knees + ready to hide under a blanket, I'm here to tell you that you're not alone. :)
I bet you're tired of always promoting, always pushing, and always being "on" All. The. Time.
There IS a better way.
What if I told you ....
+ PINTEREST is the NUMBER ONE source of traffic that actually spends more $ out of ANY social media platform (Yup, more than 2x Facebook!)
+ PINTEREST is growing faster than ever + driving more traffic than ever, but is still being ignored by most of your competitors (hello opportunity!)
+ With the right strategy you can dramatically grow your traffic + sales in less than 1 hour of work per week (huge ROI for time spent!)
+ After implementing a strategic Pinterest strategy, you'll have a powerful marketing system that does that work FOR you 24/7, 365 days per year. (passive income here I come!)

More Traffic, More Followers, More Engagement, More Sales

My guess is that you've heard the Pinterest success stories. You've seen the businesses that seem to have EXPLODED their traffic and sales overnight with Pinterest.
But for some reason you just can't seem to figure out the "magic Pinterest formula" for yourself.
My friend, I hear you. That's why I created a solution ..
The Pintastic Profit Plan is a step-by-step program that shows you EXACTLY how to turn Pinterest into an automated sales, leads, and list building machine for your business.
(while having a lot of fun in the process!)
IT'S TIME TO TAKE YOUR PINTEREST GAME TO A WHOLE NEW LEVEL
I'm giving you my entire Pinterest strategy plan process. This process is the same step-by-step method that I use to turn my client's Pinterest accounts and websites into sales conversion machines.
The Pintastic Profit Plan is made up of 5 core modules. Inside of each module you'll find the specific step-by-step lessons, downloads, and resources needed to plan out your own Pinterest strategy.
What is included in the Pintastic Profit Plan:

+ the Pintastic Profit Plan 31 day course
+ a 24/7 Slack community for interaction and collaboration with myself and class members
+ 5 modules, with 14 lessons delivered in highly actionable, step-by-step content
+ a course workbook to guide you through the course + chart your progress
+ a recorded Q+A session to answer common questions
Lets get into the details of each module:
MODULE 1: PINTEREST POWER FOUNDATIONS
+ Get clear on defining your brand, and what's going to make you stand out + get seen on Pinterest.
+ Conduct a complete revamp of your Pinterest profile to optimize it for attracting your ideal clients effortlessly.
MODULE 2: HOME SWEET ONLINE HOME
+ Learn how to make simple "tweaks" to your website to optimize your Pinterest traffic for conversions.
+ Create compelling systems that make it a no-brainer for potential clients to opt-in to your email list and buy!
MODULE 3: THE LEAD GENERATION MACHINE
+ Set up an email list building funnel that puts your lead generation system on autopilot through the power of Pinterest.
+ Optimize your content and blog strategy to get subscribers and clients from every blog post that you write.
MODULE 4: VIRAL PINTEREST CREATION
+ Learn what makes a powerful Pinterest Pin, and create your own
Pinterest Image Style Template.
+ Create pins that are primed to go viral and provide infinite amounts of traffic + potential clients
MODULE 5: PINNING PLAN FOR PROFIT
+ Implement and a plan out a complete Pinterest pinning strategy designed to gain traction quickly.
+ Create an exact blueprint to keep your Pinterest "machine" running on less than 1 hour of work per week.
You get access to the entire Pintastic Profit Plan course at once.
All your downloads, videos, and resources are waiting for you.
To make sure you have an incredible experience as part of The Pintastic Profit Plan program, you'll also get:
1. 24/7 Slack team community to hangout with me and the rest of your course-mates!
I'm so excited that you'll be joining our private 24/7 Slack team community for our Pintastic Profit Plan course members. It's a place to chat Pinterest strategy, get feedback on your pining plan, and collaborate with other group members.
I'm literally in the Slack team DAILY to respond personally to all your comments and questions. It's the best place to get individual feedback from me so that I can help you become a Pinterest pro. :)
2. Complete Webinar Vault of bite-sized Pinterest + website strategy trainings.
Because I want you to have access to all my best stuff ...I'm giving you access to my complete webinar vault of all my past solo and joint webinar recordings.
That means you'll have over 5 hours worth of additional training on topics like building your email list with Pinterest, DIY photography, creating a non-icky sales funnel, launch strategy, and more.
I'm always adding to this vault of trainings, so you're sure to be up to date on all the most relevant Pinterest and website strategies that I've got.
3. 1 free month of my favorite Pinterest scheduler
YOU'RE GOING TO LOVE THIS!
I'm all about helping you to create a Pinterest strategy that is very manageable, and easily able to be maintained on less than 1 hour per week. There is no better way to do this then using a Pinterest-specific scheduling program.
That's why I'm giving you a free trial of my favorite program, Tailwind, plus a $15 credit towards your first month when you sign up for a paid plan.

Honesty, I'm just so amazed at how QUICKLY this all worked. Usually strategies for long term success take a long time to implement and see results. In JUST 3 weeks we started seeing these insane stats, and I know it will just grow exponentially.
Pinterest is my #1 referral source of traffic (crazy!) and I have 1K followers and growing every day. I was so skeptical before and now I just wish we had prioritized Pinterest sooner!!! THANK YOU SUMMER! This is our big growth strategy moving forward and seriously you're the person to learn it from!" ~ Mariah, Femtrepreneur.co
YES! I want the Pintastic Profit Plan!
Grab your spot now ...
Based on your suggestions, I decided to optimize my Pinterest images a little differently then I had in the past. In just over 12 hours I've already had over 80 people opt-in to my content upgrade, and I haven't even shared it on Twitter yet!
I can't wait to see what these little changes add up to in the coming weeks as I adjust my past blog posts and roll out the changes more widely. I think it is going to be ridiculous!" ~ Kyla, KylaRoma.com
This course has the power to take your Pinterest-powered sales + traffic from "BLAH" to "Woah! Did that just happen?"
There are some big misconceptions about what it takes to be successful on Pinterest. Here's what I want you to know before you purchase Pintastic Profit Plan:

1. Forget everything you think you know about Pinterest. It's time to change your complete mindset. Pinterest is no longer that place you find your fav recipes or decor ideas. We're going to totally revamp your Pinterest strategy, and turn it into a customer attraction machine!
2. You do not need big follower numbers to be successful on Pinterest. I had fewer than 500 Pinterest followers, and was supplying myself with more warm client leads than I could possibly handle, coming directly from Pinterest.
3. Product AND service-based businesses are killin' it on Pinterest. Don't think for a second that because you don't have stunning product photos, that you can't make it work on Pinterest. The strategy I teach works for both product and service-based businesses, as well as for online or local businesses.
4. No website or blog yet? No problem! You can absolutely start building your Pinterest presence before you have your website or blog ready. It fact it will make things easier for you to start now! There is even a full lesson included on how to grow your email list + start making sales with Pinterest if your website isn't ready yet.
I'm Summer Tannhauser, and I KNOW how to create massive profit through Pinterest for your business.
+ I've created Pinterest pins that drive over 500 email opt-ins per month.
+ More than 75% of my paying clients came directly from Pinterest.
+ I never had to hustle for leads or search for my next paying client.
+ Pinterest provided a steady stream of clients and sales daily.
So how did I become the "First Lady" of Pinterest?
I haven't always been a master at Pinterest marketing (or in being an entrepreneur in general).
I opened my first small business totally on a whim, as a way to make a little extra spending money during my summers off from teaching. Things sure have come a long ways since then:
2009: I opened a local pet sitting + dog walking company, while teaching elementary school full-time
2012: My daughter was born, I stopped teaching, and I ran my (now successful!) local company pretty much on "auto-pilot" with a team of part-time employees in place.
2013: I was itching for another entrepreneurial adventure, and was ready to conquer the online biz world this time. I opened Adventures Planned Honeymoons, an online travel consultancy.
I had 0 leads, 0 clients, and 0 ideas about how to get profitable.
I decided to go ALL IN with Pinterest, and let's just say I'm glad that I did ...
Pinterest changed EVERYTHING.

+ daily "trip design" request forms from potential clients
+ Pinterest pins that drove 10-20 email signups each day
+ all the clients leads that I could handle on a regular basis
Now I teach other online business owners to achieve the same success with Pinterest!
I'm sharing my personal story with you so that you can see what is possible to achieve with Pinterest. But what's more incredible is what my clients + students have been able to achieve!
As a designer, I knew how powerful Pinterest could be but hadn't ever set aside time to really invest time into it. The results I got from working with Summer were AMAZING. If you need Pinterest help, get her help immediately!" - Jess, JessCreatives.com
Yes! I want the Pintastic Profit Plan.
Get started right away ...
I would just like to say thank you Summer! I've officially completed module 3, and have already gained almost 100 followers in three weeks, and saw a significant increase in repins, EVEN for new pins! - Jewel, JewelSchoolGems.com
I just had a look at my Google Analytics, and I can see that I have just had my very first sign up for my newsletter from Pinterest. I have only had my Pinterest account for 1 week! I am very excited at what is to come. :) ~ Andrea, PurposeAnimal.com
When you use the step-by-step strategy found in Pintastic Profit Plan, you'll finally understand EXACTLY what to do, when to do it, and how, to create a powerful Pinterest marketing plan ready to supercharge your business.
--> Find out exactly how to turn your Pinterest profile into one that stands out and effortlessly attracts your ideal clients.
--> Get a step-by-step process of how much to pin each day, how to do it most efficiently, and what to pin for optimal results.
--> Create your own weekly pinning plan that will keep your "Pinterest machine" running on less than 1 hour per week.
--> Learn to get traction quickly for amping up your re-pins and follower numbers, even if you're starting from scratch
--> Join group boards, and maximize their ability to super-charge your Pinterest growth
--> Design a power Pinterest image style template for your brand, and watch your viral pins skyrocket.
--> Simple website "tweaks" and compelling sales systems that will make it a no-brainer for your new traffic to opt-in and buy
--> And of course, MUCH MORE!
If you take action with Pintastic Profit Plan and are not satisfied with your results, I'll buy it back from you.
Here's the deal. I don't want unhappy customers. And I DO want action takers. I pride myself on providing a high quality program that works … *if* you put in the work.
That means if you actually follow the steps that I teach you, then I know you're going to love the results. BUT, it you view the course, think to yourself "wow, that was good stuff," and then go back to doing what you've always done, you're not going to love the results. Makes sense, right?
If within 30 days, you've used the workbook, implemented the strategies, and you're unhappy for whatever reason just email me. To quality for a refund, you will need to submit proof that you've taken action on the lessons up to that point, and you'll receive a full refund.
I am happy beyond words with having made the decision to take the Pintastic Profit Plan course. I had a lot of "loose" pieces before, and didn't know how to put it all together. Now I have been able to lay a firm foundation for my coaching business, and am actually marketing it through Pinterest! ~Gloria-Jean, CoachingbyGJ.com
I knew how to use Pinterest for personal use, and had quite a bit of success from using it for business ... but it was all by dumb luck. I had NO CLUE what was making my pins go viral.
After taking Pintastic Profit Plan, I know feel like I FINALLY understand why things worked for me in the past, and how I can recreate that success for my new business venture! ~ Rachael, RachaelRoehmholdt.com
I honestly never realized how wrong I was using Pinterest and all the features this platform has!! Wow, so glad I'm taking this course! ~ Krystle, KrystleNicole.com
Who Pintastic Profit Plan is for:
+ If you're just getting started with your business or blog, and you're thinking "How in the world do I get people to find out my super cool biz even exists?" (in a totally non-icky or salesy way), THIS IS FOR YOU.
+ If you have a local business (maybe real estate agent or coffee shop owner?), and are ready to get started finding new clients and customers online, but are struggling to make it work, THIS IS FOR YOU.
+ If you have an online based business and know that the key to your success is increasing your website traffic and converting those visitors to your email list, THEN THIS IS FOR YOU.
+ If you're spending so much time hustling for clients and leads, that you're getting burnt out on doing the actual work that you're passionate about, THEN THIS IS GOING TO BE FOR YOU.

It's time to turn Pinterest into the most powerful (FREE!) list, lead, and customer generation machine that your business has ever known.
Yes! I want the Pintastic Profit Plan!
Let's do this ...
Frequently Asked Questions
Is this course right for me? Is it really going to "work" for my business?
Obviously I can't "guarantee results" (that would be a little bit illegal, eek!), but I can give you the EXACT blueprint that I've used to achieve Pinterest-driven success in my own businesses, and in those of my elite clients. The tools, the strategies, the step-by-step plan, you get it ALL. I've shared my Pinterest knowledge with thousands through my free content, courses, and webinars. And in my paid course, I have students building their businesses through Pinterest from every industry you could imagine, ranging from speech therapist to animal career coach (really!)
How long do I have access to the course?
How does lifetime access sound? After enrolling, you have unlimited access to this course for as long as you like - across any and all devices you own. The course is all self-paced, so you're welcome to login and work through the content whenever is convenient for you.
What if I don't have blog/website yet? Is this course for me?
As long as you are working towards having a blog or website in the future then yes! I provide a full lesson on how to start building your email list with Pinterest without a blog.
How long on average will it take to get results?
Of course this all depends on a variety of factors, with everyone learning and implementing at different speeds, but on average from start to finish working through the course takes about 30 days. However you can go at whatever pace works for you and your lifestyle.
How available are you throughout the course? Do you provide support?
YES, I am 100% personally involved in this course! The Slack team community (similar to a private FB group) is where I'm at on a DAILY basis (yep, if you need me, I'm there!), answering questions and providing feedback. You can be assured that your emails, messages, and Slack questions will be answered, and you'll always know you have someone to turn to for support!
Course Curriculum
WELCOME!
Available in days
days after you enroll
MODULE 1: Pinterest Power Foundations
Available in days
days after you enroll
MODULE 2: Pinning Plan for Profit
Available in days
days after you enroll